The Big E-Mobility-Test Stirs All of Germany
In April 2017, VOLKSWAGEN and MEDIA IMPACT announced in a cross-media campaign with the joint endorsement of BILD.de, WELT and AUTO BILD that they would trial twelve VW e-models. The options included the e-up!, the e-Golf and the two hybrid models Passat GTE and Golf GTE.
The special media opening to the announcement in week 15 was taken care of by homepage ad placements on welt.de and bild.de. This was followed by various kinds of ads in WELT, WELT am SONNTAG, BILD, BILD am SONNTAG and AUTO BILD, as well as other online initiatives.
After the announcement stage, which was an overwhelming success with over 10,000 applicants, the vehicles were tested.
Twelve applicants were selected as testers. They came to the grand opening event in Dresden to pick up their e-vehicle from Volkswagen for the six-week test phase.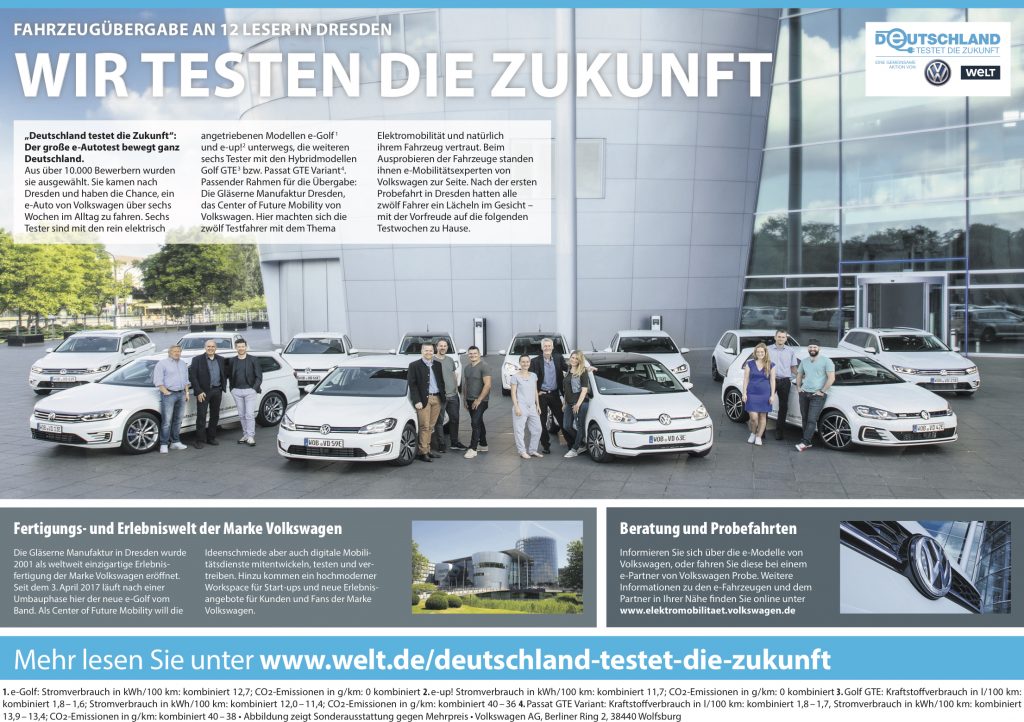 The perfect setting for the handover event was the "Gläserne Manufactur" (Transparent Factory) Dresden, Volkswagen's centre of future mobility. Here, the twelve test drivers got more acquainted with the subject of electromobility and, of course, with their vehicles. Volkswagen e-mobility experts assisted them in testing the vehicles.
Six testers drove the purely electrically powered e-up! and e-Golf models, with the other six driving the hybrid Golf GTE and Passat Variant GTE models.
Background stories of the testers were produced during the test phase and shown in a cross-media advertorial series on BILD, BILD am SONNTAG, WELT, WELT am SONNTAG and AUTO BILD both in print editions and on the digital channels. And among other things, twelve photo shoots were planned and executed throughout Germany with the testers.
Each tester did a photo shoot with a professional photographer, in order to make the campaign as native as possible by using direct quotes of the testers and photos from their everyday lives.
The reporting phase began at the end of July, during which a specially produced advertising spot on N24 and a brand story on upday supported the campaign in addition to the media platforms already involved since the announcement stage.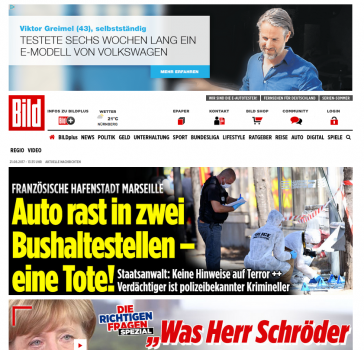 All applicants who were not selected – more than 10,000 readers of our brand services – received a Volkswagen Powerbank as a thank-you. A small gesture, but one that met with a very large and positive response. This was demonstrated by numerous phone calls and thank you e-mails in which the applicants thanked us personally.
The campaign idea, the slogan "Deutschland testet die Zukunft" (Germany is trialling the future) and the whole design of the initiative were developed by Creative Services, Media Impact's creative department which supervised and launched the campaign in the media.
Sample print advertisements