The Exhilarating Personality Test With SEAT
Based on the personality test trend, our readers could take a lifestyle test online and in the print edition using this gamification approach.
A car, after all, should not only serve to get you from point A to point B, but also match your personality type. That's why questions on engines, design, etc. were left out in favour of questions about the perfect holiday or personal clothing styles, for example.
The results showed which SEAT model you are best suited to: the SEAT Ibiza or the SEAT Leon St.
With its cross-media advertising in our strong brands BILD, WELT and AUTO BILD, SEAT wanted to show that their models are always a perfect match. Attention-grabbing online formats – such as a day fixed placement on BILD.de, a portal run on WELT.de and two day fixed placements on AUTOBILD.de – helped build the necessary awareness and link to the test.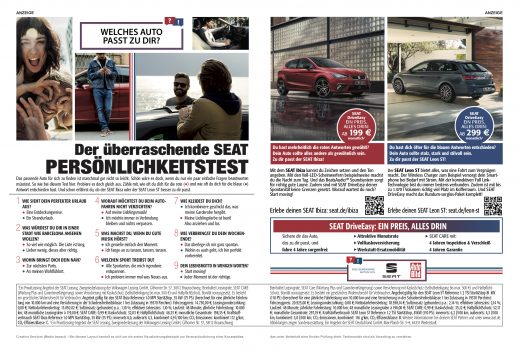 Its special feature: After completing the test, the user was shown an offer with their matching car through re-targeting. Also, if a user did not feel tempted by the content of the displayed banner, they were offered a new ad with a different starting point to the test. In the print edition, readers were able to go through the exhilarating SEAT personality test in their favourite magazine and find out which car suits them best without having to be online.
The campaign idea, the slogan "Welches Auto passt zu dir?" (Which car suits you best?) and the entire design of the campaign all come from Creative Services, Media Impact's in-house creative agency.